Our Services
How we can help you find your perfect fit, no matter your age, shape or size
Her First Bra
Teen bras are designed to ensure that growing girls have all the comfort and support they need. Fitting for a first bra can seem quite daunting to a young girl and she may not know what to expect. We will carefully guide you both through your journey and offer a gentle and nurturing approach to make sure she doesn't step out of her comfort zone.
For further information, download the fact sheet below.
Ma-ternity and Beyond!
When you find out that you are expecting a baby, it is very important to get measured for maternity/ nursing bras. We recommend getting fitted 3 times during your pregnancy to allow your breast tissue to grow, ideally in each trimester. We offer a friendly and expert bra fitting service and our products range from maternity bras through to nursing bras, so you'll be well equipped once baby arrives too!
Post Mastectomy Surgery Support
During this difficult time you may not be feeling like your old self, so it may not occur to you that following any breast surgery, such as a mastectomy, lumpectomy or breast augmentation, it is best to get professionally fitted. We approach prosthesis and mastectomy bra fitting with great compassion and empathy and aim to make your experience with us a positive one.
Janice Rose Lingerie is a fully certified prosthesis and mastectomy fitter, pre and post-surgery.
From Hot Stuff to Hot Flushes and Everything in Between
Some factors which can affect the shape and size of your breasts can include – Menopause, pregnancy, medication and contraception. Natural breast tissue will drop due to age, rapid weight loss, breast feeding and incorrect and badly fitting bras. As your body goes through these changes, it's a good idea to get into the habit of making an appointment to be professionally fitted. 99.9% of our customers have left our showroom with smiles on their faces, suggesting they had no idea they were 'that size'. Having the correct fitting bra can change the way you feel about yourself for the better.
In our showroom, we stock wired, non-wired, front fastening, maternity, nursing, sports and post-surgery bras and cropped tops. Our size range is 28"-56" band and cup sizes range from AAA- L cups depending on brands, bras for bigger ladies, big cup bras and curvy ladies alike. We also stock bra accessories, pants, shape-wear, vests, camisoles, under slips and nightwear. So you could say that we are good 'all rounders'!
For the Sporty Types
Poor support during physical activity can result in breast pain, damage to the skin and can even affect your performance. Whatever your sport of choice, concentrate on your performance without worrying about comfort.
Join our LGBTQ+ Closed Facebook Group Today
Janice Rose Lingerie have started a closed Facebook group for the LGBT community, where you can discuss your body, worries, concerns and advice for underwear. Find us on Facebook at Janice Rose Lingerie and join our closed LGBT group.
ALWAYS HERE TO GIVE ADVICE
Award winners from the get-go
Winner - Best independent retailer - Newark Business Awards
Highly Commended - Best customer care finalist - Newark Business Awards
Highly Commended - Business person of the year finalist - Newark Business Awards
SJL entrepreneur of the Year
Newark Community Awards -Special Recognition in the Citizen of the Year category
Covid bounce back award – Newark Business Awards
Finalist in Best Start Up – Newark Business Awards
Finalist in Best Independent Retailer – Newark Business Awards
Finalist in Enterprising Women Awards – East Midlands Chamber
Winner in LoveBiz Networking Awards 2022
From the Oscars of the Lingerie Industry
Finalist in Special Care Recognition Award - Stars Underlines Best Shop Awards 2021 (Finalist of 250 potential nominees from our Suppliers)
Gift Vouchers NOW Available via our Showroom!
Gift Vouchers are not just for Christmas or Birthdays!
Now you're able to purchase a gift voucher for a friend or loved one to allow them to choose their own lingerie, in-store. We have denominations of £5, £10, £20 and £50 so you can choose whatever amount you please.
Contact us at 01636 822003 or email janiceroselingerie@mail.com for further details or to make an order.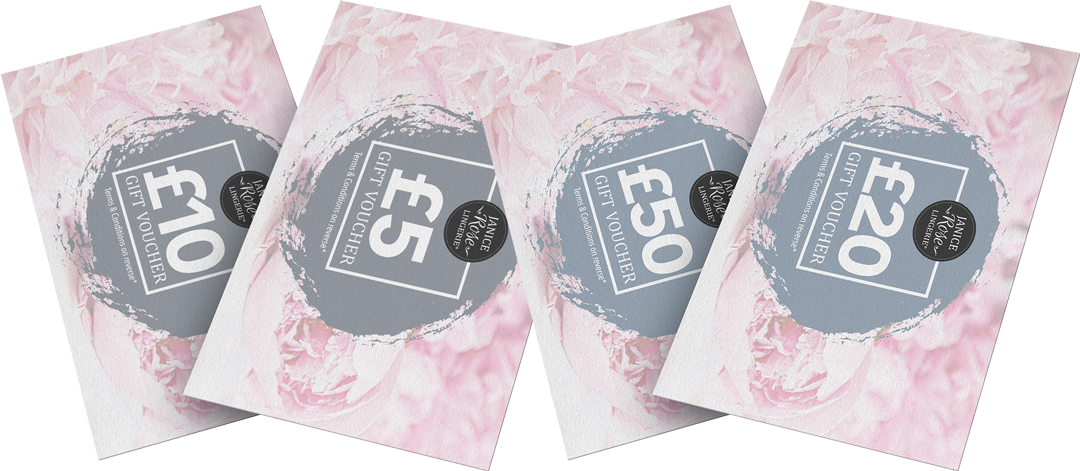 Book a consultation today
To confirm your online booking we charge £10, however if a purchase is made, the £10 is deducted off your total purchase. 
If consultations need to be cancelled, please call the showroom on 01636 822003 and we will gladly rearrange it for you. Please note, rearranged consultations will need to take place within three months of the original consultation. Our last consultation is 4pm.