Reviews & FAQs
Have a look at what our happy customers have had to say about us and get your questions answered straight away!
5* Service
I was recommended Janice Rose Lingerie by a friend and after shopping at Bravissimo for years, I thought I'd go and have a look as I'd much rather buy from a local company. The service I received was top class and I was instantly made to feel comfortable. I will be recommending Janice Rose Lingerie to everyone I know and I will definitely be back!
Get The Girls under Control !!
Janice is so passionate about sharing information that us ladies should all be aware of. I had a wonderful, informative, discreet fitting today and, oh boy, did we get those puppies under control. Bend forward and pull up!!
I wouldn't hesitate to recommend Janice Rose, all my friends will follow shortly . Thank you ladies, you are uplifting!!
Never Too Old To Learn
I have been wearing bras since around 13yrs old, usually measuring myself, but I decided at 69 to treat myself to a proper fitting. Lesley measured me, brought me a selection of bras and helped me get the fitting right, including the 'two scoops'!! I looked in the mirror and was totally taken aback because all of a sudden I had boobs!!!! Thank you Janice and Lesley for all your help and laughter, it turned, what could be to some an embarrassing experience into a riot xx
First visit, not the last!!!
I've been today for my bra fitting after lots of years with a well-known retail chain. I can't believe how I feel and look after getting bras that are the correct style and fit for my shape.
Lesley was extremely knowledgeable and totally put me at ease. Nothing was too much trouble and she gave me her honest opinion on styles and fits. I won't be buying from anywhere else now.
Thank you sooooooo much.
So happy to see a new me!
Amazing experience today with an excellent and expert bra fitting appointment. I'm absolutely delighted with my purchases – so comfortable (probably has something to do with now wearing the correct size and style!!) and you've completely changed my shape.
I've got so much more confidence.
Genuinely can't thank you enough Janice for the professional and friendly service without a hint of pressure. Will definitely be returning and recommending you to others.
– Sue Johnson
First Visit!
Today my Mum and I had our first visit to Janice and we couldn't praise her another.
Janice made you feel so welcome, talks you through all that she does with such wonderful passion and makes you feel so relaxed. We will certainly be visiting again soon.
– Simone Carr
Such care and compassion
Thank you so much ladies for your care. Losing a breast after cancer has been a hard journey, but I left your shop feeling like a new woman!
For the first time in six months I have no discomfort! Yeay!!
What a difference wearing the right bra makes! I'll be back in July for the rest of my order. Thank so so much! You're real stars!!!
– Alison Bowell
Fantastic service
Visited Janice Rose Lingerie for my first ever bra fitting (at the age of 65!) and was blown away by Janice's knowledge and helpfulness. I learned so much about how to choose a bra that really fits and works well for me.
She had endless patience as I tried on what felt like most of the stock, until we found the perfect bra. She really is an all round lovely lady. When I got home and tried on the bras with my usual clothes, I looked as if I'd lost five pounds in weight – it really does make a huge difference when the girls are hoisted up to where they should be 🙂
I can't recommend Janice highly enough and this will now be my 'go to' place for future purchases and fittings.
– Gilly Walker
How do I book an appointment?
Appointments are made via our website, just click onto the bookings tab on the website to select date and time. We ask for a £10 fitting deposit per person which is redeemed off a purchase with us. A confirmation email will be sent to you.
How many people can come for an appointment?
We ask for one appointment per person. This enables us to give you a personalised 45minute appointment.
Where is your showroom?
Janice Rose Lingerie is 5 minutes off the A1 at Sutton on Trent, 10 minutes north on the A1 from Newark Notts. Unit 4 Old Great North Road, Sutton on Trent, Notts, NG23 6QS
Are you open late nights or weekends?
Our opening hours are Monday-Saturday 9am-5pm
Gift Vouchers NOW Available via our Showroom!
Gift Vouchers are not just for Christmas or Birthdays!
Now you're able to purchase a gift voucher for a friend or loved one to allow them to choose their own lingerie, in-store. We have denominations of £5, £10, £20 and £50 so you can choose whatever amount you please.
Contact us at 01636 822003 or email janiceroselingerie@mail.com for further details or to make an order.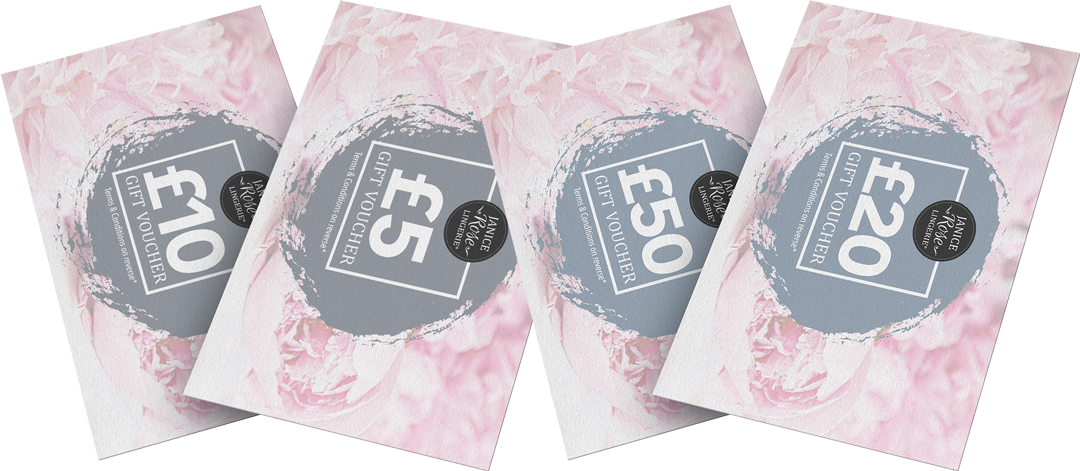 Book a consultation today
To confirm your online booking we charge £10, however if a purchase is made, the £10 is deducted off your total purchase. 
If consultations need to be cancelled, please call the showroom on 01636 822003 and we will gladly rearrange it for you. Please note, rearranged consultations will need to take place within three months of the original consultation. Our last consultation is 4pm.