Reviews & FAQs
Have a look at what our happy customers have had to say about us and get your questions answered straight away!
Fantastic Ladies and Service
Thank you so much! Janice and the team clearly love what they do.  Janice is very knowledgeable in all aspects, felt very comfortable with her and the new bras I have are amazing.  There is no pressure to purchase but when you see the difference that Janice makes to you, you will want to buy the whole shop (reasonably priced too). Thank you again.
5* customer service
Janice is a true expert who clearly loves what she does. My old bras were completely the wrong size and fit. I left feeling completely comfortable and more confident in one of my new bras. Janice didn't just find me the right fitting bras she also gave me information I wish I'd been told years ago! The whole experience was great and I shall definitely be back next year. The bonus is the extensive stock of beautiful bras whatever the size you need.
Excellent bra fitting service
I was a little apprehensive about my bra fitting but I was made so welcome as soon as I walked in.
Kelly did my fitting and she was brilliant, after she measured me she explained to me what would suit me best and she was so patient with me while I tried several different bras.
I came away with 3 lovely bras which fit me perfectly.
I would highly recommend a bra fitting here, you won't be disappointed.
Amazing
Thank you very much for taking the time to find me a great fitting bra and tell me the importance too! Very patient and loads of choice. No pressure to buy but they do such a good job you won't leave wearing the bra you can in! Fantastic!
My first visit but definitely not my last
My first visit but definitely not my last. Could not have had better service, lovely people. Well worth the 30 mile drive to get there, easy parking . No sales pressure, wide choise of styles and not too pricey, best fitting bras I've ever had. The information, advice and fitting top notch. The offer of a cuppa and available toilet was also welcome! Try them yourself you won't regret it.
Patient and professional
Kelly was an absolute star this morning.
I had plenty of boxes for her to tick because of the style of my dress and she was absolutely determined to find something suitable…and she did!
She was also kind and understanding and I felt very comfortable in her company, though I had been a bit anxious about the appointment.
Would recommend to anyone, great service, great selection and great staff. Will definitely be back ☺️
An excellent bra fitting service
I moved to the Newark area 9 months ago. Having had a right side mastectomy over two years ago I needed to replace my bras. I was given excellent advice, the whole experience was trouble free, and it took place in very comfortable surroundings. Thank You!
Amazing place
Can't recommend Janice Rose enough.
Top service provided by a lovely team who measure you and fit you in the correct bra/ style for you.
I always leave wearing my new bra and leave my old ones for charity.
How do I book an appointment?
Appointments are made via our website, just click onto the bookings tab on the website to select date and time. We ask for a £10 fitting deposit per person which is redeemed off a purchase with us. A confirmation email will be sent to you.
How many people can come for an appointment?
We ask for one appointment per person. This enables us to give you a personalised 45minute appointment.
Where is your showroom?
Janice Rose Lingerie is 5 minutes off the A1 at Sutton on Trent, 10 minutes north on the A1 from Newark Notts. Unit 4 Old Great North Road, Sutton on Trent, Notts, NG23 6QS
Are you open late nights or weekends?
Our opening hours are Monday-Saturday 9am-5pm
Gift Vouchers NOW Available via our Showroom!
Gift Vouchers are not just for Christmas or Birthdays!
Now you're able to purchase a gift voucher for a friend or loved one to allow them to choose their own lingerie, in-store. We have denominations of £5, £10, £20 and £50 so you can choose whatever amount you please.
Contact us at 01636 822003 or email janiceroselingerie@mail.com for further details or to make an order.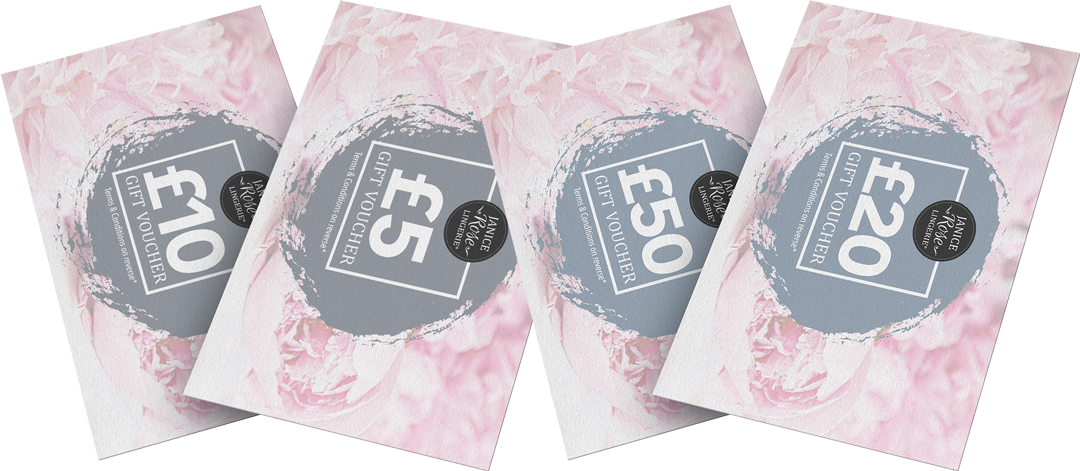 Book a consultation today
To confirm your online booking we charge £10, however if a purchase is made, the £10 is deducted off your total purchase. 
If consultations need to be cancelled, please call the showroom on 01636 822003 and we will gladly rearrange it for you. Please note, rearranged consultations will need to take place within three months of the original consultation. Our last consultation is 4pm.