Period pants help you to save money, protect the environment and go with the flow
According to the menstrual cup brand, Intimina, between the ages of 12 and 52, women can spend roughly £4916 on period products. If there are two women per household, a mother and daughter, that figure rises to £9,952!
Period pants may be a more expensive one-off purchase, but they'll save you money in the long run.
And it's not just the cost that period pants reduce, either. They can reduce the impact on the environment too.
Do you flush or bin?
Friends of the Earth charity estimate that sanitary pads are made up of 90% plastic. One pack of pads is equivalent to four plastic carrier bags. The charity also says that "it's been estimated 1.5‐2 billion menstrual items are flushed down Britain's toilets each year."
Benefits of Period Pants
Above are two of the HUGE benefits of investing in period underwear. Here are some more:
Simple to use. If you're less elephant and more goldfish when it comes to remembering things, then period pants are for you. Pop them on in the morning, and if your period isn't too heavy, you're covered for up to 9 hours. No more dashing to the loo to change your tampon.
They're reusable. Invest once, look after them and wear them for years to come. All you have to do is give them a good rinse in cold water after use, stick them in a 40-degree wash and line dry. Skip the fabric conditioner, though. That's not needed.
They're more comfortable. Pads are not comfortable no matter what brand you buy. Period pants are. Period! Also, Pretty Polly period pants are designed with comfort in mind—they say their pants are like a "hug for your tummy." Just what we need at that time of the month.
A style to suit. You might think period pants = granny pants. This couldn't be further from the truth. Our Pretty Polly range includes hipster shorts and midi briefs—these two styles suit a number of body shapes.
Perfect for period starters. Young girls who start their periods may find period pants less embarrassing at school.
But what are period pants? We hear you cry.
Period pants are knickers you wear when you're on your period. You wear them instead of tampons, sanitary pads and menstrual cups. According to Pretty Polly, "they're designed to get you through menstruation comfortably and confidently."
You can use period pants on their own to absorb your period, or if your flow's heavy, you can use them alongside tampons or menstrual cups to help prevent any leaks.
As fresh as a daisy
We know what a lot of women are worried about when it comes to period underwear: Odour.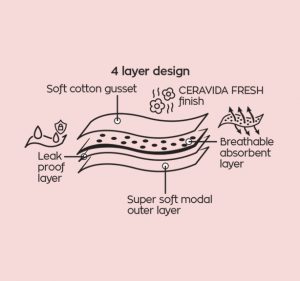 Just like period pads and liners, period pants use anti-microbial and moisture-wicking properties to help prevent odours. Pretty Polly uses a revolutionary treatment on their pants called Cerivida Fresh, which is "an innovative anti odour agent that lasts for the entire life cycle of the product and has been created with the environment in mind using no harmful chemicals or toxins."
Book a consultation at Janice Rose Lingerie to discover the Pretty Polly period pant for you.